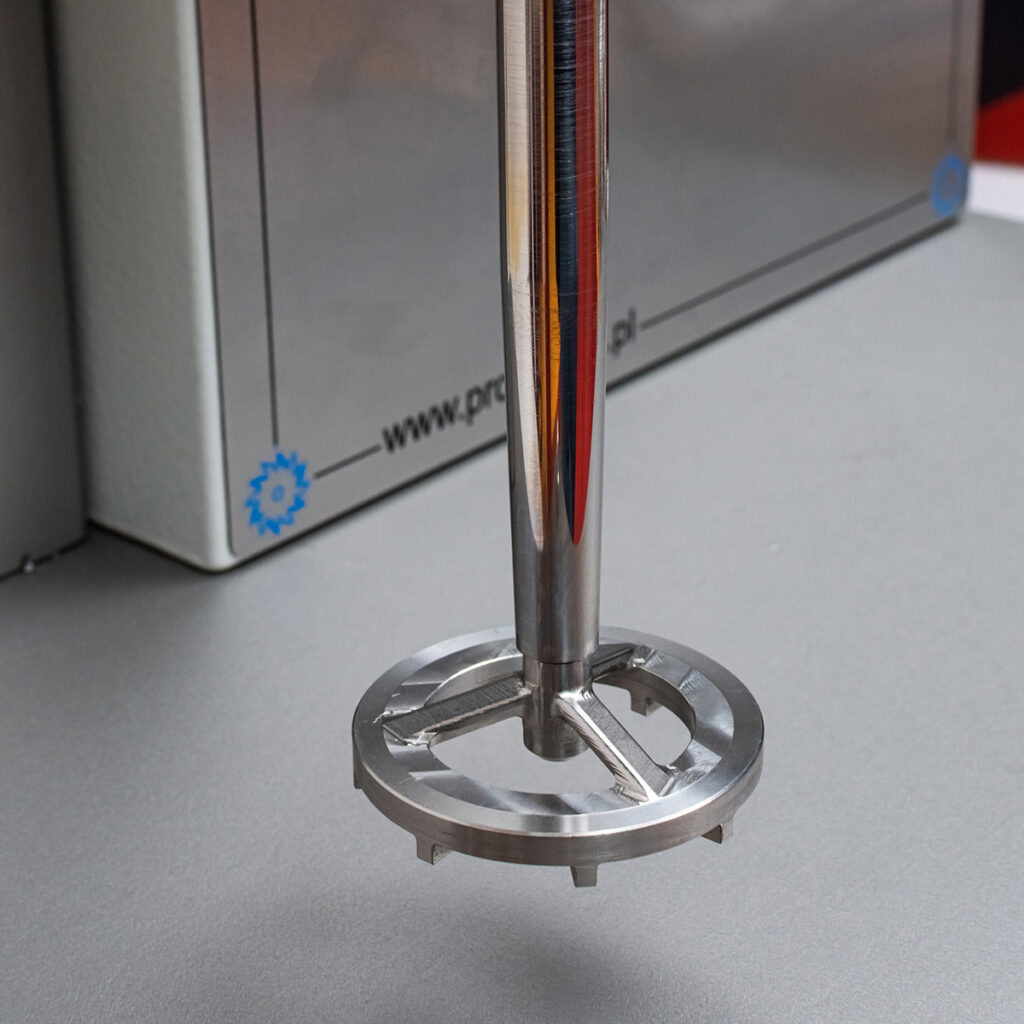 Rapid dispersion is a technological process used in manufacturing:
paints and varnishes
coatings (painting)
construction and other chemicals
adhesives and binders
polyurethane foams
PVC paste
film
magnetic tape coatings
cosmetics and pharmaceutical products
Disolvers are used to disperse microscopic particles of solids in liquids, resulting in a colloidal system. During the dispersion process, the joined particles are mechanically separated and their surface is wetted. As a result of stabilisation of the dispersion, the particles cannot be brought back together. In order to obtain an optimum result, several rules must be followed taking into account the geometry of the vessel and its filling level, the diameter of the dispersing disc and its distance from the bottom of the vessel, a peripheral velocity between 18 and 25 m/s and the optimisation of the mixed base (pulp) with respect to its rheological properties.
When pigments and fillers are added to the resin solution, an increase in rotational speed will set the "pulp" in motion. As a result of the mass movement, the shaft and part of the dispersing disc become visible – this is known as the "funnel effect". At this stage of the process, the greatest mechanical power is delivered to the product: too little solids will result in a low viscosity product, too much solids will result in a high viscosity and the flow will be interrupted.
Equally important is the distance of the disc from the bottom of the tank: a shorter distance increases the shearing force and allows the speed to be increased to increase the mechanical action.
Laboratory test results can be transferred to the industrial scale with all parameters taken into account.
Grinding (grinding) disc – allows the disolver to be converted into a vertical ball mill at low cost. Our grinding discs and jacketed tanks keep the mass at a low temperature and are simple and efficient to use: the grinding balls and mass are rotated inside the tank and the grinding process takes place between the balls, grinding disc and tank walls.
The grinding attachment, which is interchangeable with the dispersing head, transforms the disolver into a vertical basket mill. Balls are placed in the cooled grinding head, where the product is ground. The dispersing disc below the head sets the mass in motion and an additional mixing element draws the product into the head.
Vacuum attachment – optional component to convert the unit into a vacuum disolver – easy to replace, simple to use, efficient: standard shaft replaced with vacuum system, efficient seal for most applications, no additional cooling required, vacuum lid with sight glass, inlet opening, vacuum port and vent valve. The system works with standard single wall tanks.